How Block Paving Is Installed
At Imperial Drives LTD, we follow a strict paving installation process with every paving job we do. This is to ensure that every one of our customers gets a quality finished paving surface that will last many years.
With every driveway paving or patio job, we aim to deliver a perfect long-lasting job that will guarantee 100% customer satisfaction.
Installation Process:
We aim to provide fast, free and accurate on-site design consultations and price estimates. We will guide you through the process every step of the way as we work to transform your existing surface into an amazing outdoor living space.
From initial site measurements and contract quotes through the finished surface, Imperial Drives LTD provide simple, easy-to-understand breakdowns for all services and products so you can make smart, cost-effective decisions quickly and accurately.

As a standard practice, on all new surface installations, Imperial Drives excavate approximately 8 inches from the final surface in vehicular traffic areas and 6 inches from final surface in areas trafficked by foot. This is to make sure that whatever happens, your driveway or patio will be locked solid in place.

Grading is built into most surface projects to create a natural slope for water run-off. All grading is performed with the final design in mind and provides an organic solution to water management. If that option is not available, we will insert overflow drains and Aco-drains to ensure that water is carried away safely and efficiently from your driveway and piped into a new soakaway that we will install.

While often overlooked by other contractors, Imperial Drives LTD use professional quality compactors to compact the sub-base, ensuring no soft spots in the base that may lead to unstable foundations or shifting after installation. We have 25-tonne roller vibrating machines for larger areas and 10-tonne compaction machines for smaller areas.

Imperial Drives adds one inch of river-washed sand — increasing water drainage and designed for optimal bedding—on top of the compacted Type 1 Hardcore base to assist with securing the paving stones. Once this has been compacted, it is set to an accurate screeding level for the paving to be laid upon.

The block paving stones are laid in the pattern chosen for your particular design according to the type of block paving and preference. This choice and the aesthetic look are made for maximum strength to ensure a beautiful finish lasting many years. We provide a guide for the different types of block paving patterns you can opt for on your driveway or patio.

We recommend kiln-dried sand on standard paving with a less than 10mm gap. This will be brushed into the joint. This causes the paving to interlock once compacted and lock them into place. It will harden over time and form a natural barrier to any weeds that might try to grow in the joints. On larger gap areas including on slabbing, we recommend a Polymeric joint. This has to be brushed in the same way as kiln dried sand but then needs to be sprinkled lightly with water to activate it.

Once the driveway is finished, all open edges will be cut into place and the driveway backed up with concrete on any open edges will be compacted. Once the compaction plate runs over the driveway is ready for all foot and vehicular traffic styles. Our job is done. We will remove all the excess materials and rubbish.
To learn more about our services, you can view our block paving services in Warwickshire or you can call one of our team on 01926 945017.
Here are examples of the most common type of paving products we install and a description of what type suits which type of area at your home in Warwickshire.
Herringbone Paving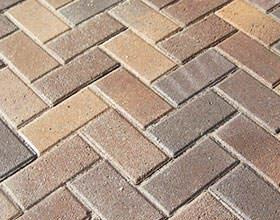 This is the most popular choice for block paving. Laying the paving in opposite directions at either a 45 or 90 degree angle will create a "V" shape that locks solid in position making it suitable for high traffic areas like walkways, driveway surfaces and patios. Its popular for its lasting strength and ability to insert diamonds and other patterns that will delight the eye. As your paving specialists, we'll provide you with a free estimate to get the process started today.
Paving circles
Laid in circular rows to form its namesake, the circular pattern is most often used for driveways and patios to break up a large open area or give a specific area a function. For example, an area where you would sit or put your table and chairs. Outside of it can be any surface as it joins in beautifully with all types of paving, imprint, gravel or tarmac. It can be done in a variety of textures and colours.
Basketweave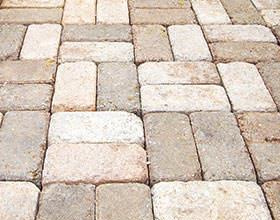 This interesting design uses vertical and horizontal pairs for a vintage look and feel. The style mimics old-fashioned landscaping and does not need to cut any block paving used if you adjust the overall width accordingly. A great way to make your outdoor patio more interesting, the pattern is also great for partial use in driveway design since it can bring an unusual look. Still, we would not recommend it on big open driveways.
Stretcher Bond Paving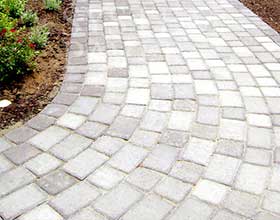 Stretcher is a simple, visually effective and easy method to install; the paving is laid side by side in a linear pattern that makes smaller areas appear larger. This style of paving looks beautiful on curved areas or a pathway. However, we don't recommend it in a high-traffic area like a driveway because it is not interlocking and can be prone to movement, especially on the edges. If heavy vehicle pressure is constantly applied.
Staggered Pattern Paving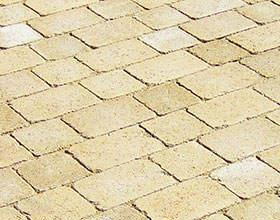 This beautiful design is characterized by using cobblestones or paving blocks cut to different specifications. The resulting random series of different lengths fit together in an eye-catching way which is perfect for driveway paving, patio paving and other areas where you want to combine the beauty and durability of your paving stones with an old traditional style and feel.
To learn more about our paving services, make sure to visit our block paving services in Warwickshire, or you can call us on 01926 945017 to talk directly with one of our team.