Indian Sandstone
Get a free estimate from our contractors on installing a new Indian sandstone patio at your home in Warwickshire. Custom design and installations are available.
GET A FREE ESTIMATE >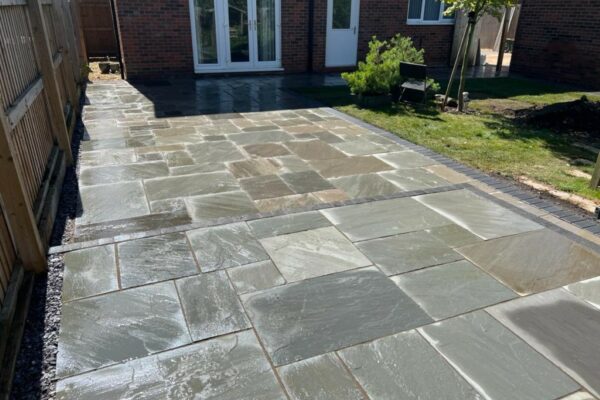 100%
SATISFACTION
GUARANTEED
Indian Sandstone Patios Warwickshire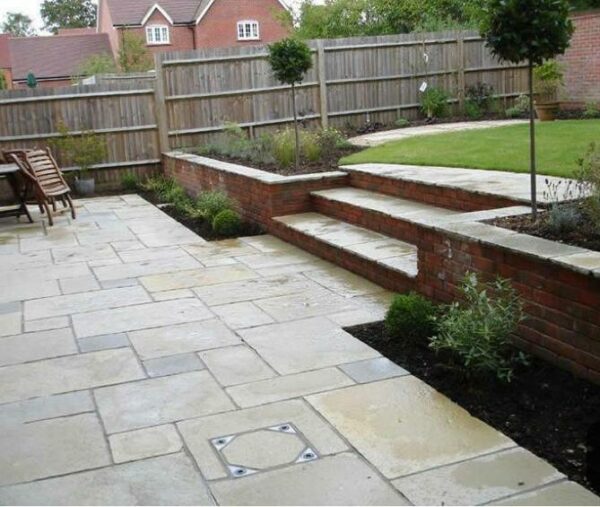 When installing a new patio, one of the more exclusive options for patio paving is Indian sandstone in Warwickshire. It has become very popular due to its texture, colour and durability. We can supply and fit Indian sandstone at an unbeatable price throughout Warwickshire.
During our free estimate, we can provide extensive design options, including samples of the different types of sandstone slabbing to help you choose a particular colour or texture you would like on your patio.
The most common installation option for sandstone is the use of 4 different sizes, which creates an offset and random effect throughout the area and highlights the colour of the sandstone.
Sandstone Options
Indian sandstone
Sawn sandstone
Multi-sized
Unique designs
Sandstone walls
Sandstone steps
Choosing Indian sandstone in Warwickshire for your patio ensures a long-lasting, durable patio and garden area. It is a natural stone that ensures the colours will never fade and will not wear down, and with only some maintenance, you can bring the colour back up on the stone after years of use.
Along with sandstone patios, we offer complimentary options such as sandstone brick steps and sandstone walling to blend in with the new sandstone patio.
If you are looking for a reliable and professional installer to install an Indian sandstone patio in Warwickshire, look no further than our company. Contact us today to schedule a consultation and start creating the outdoor living space of your dreams.
For other patio options, you can view our patio paving services in Warwickshire or our porcelain patios in Warwickshire.
To learn more about our Indian sandstone services in Warwickshire, call Imperial Drives LTD on 01926 945017 to schedule a free visit.