Here are examples of the most common type of paving products we install and a description of what type suits which type of area at your home in Warwickshire.
Herringbone Paving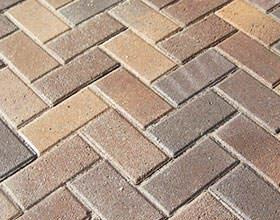 This is the most popular choice for block paving. Laying the paving in opposite directions at either a 45 or 90 degree angle will create a "V" shape that locks solid in position making it suitable for high traffic areas like walkways, driveway surfaces and patios. Its popular for its lasting strength and ability to insert diamonds and other patterns that will delight the eye. As your paving specialists, we'll provide you with a free estimate to get the process started today.
Paving circles
Laid in circular rows to form its namesake, the circular pattern is most often used for driveways and patios to break up a large open area or give a specific area a function. For example, an area where you would sit or put your table and chairs. Outside of it can be any surface as it joins in beautifully with all types of paving, imprint, gravel or tarmac. It can be done in a variety of textures and colours.
Basketweave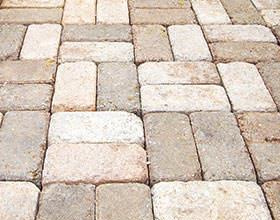 This interesting design uses vertical and horizontal pairs for a vintage look and feel. The style mimics old-fashioned landscaping and does not need to cut any block paving used if you adjust the overall width accordingly. A great way to make your outdoor patio more interesting, the pattern is also great for partial use in driveway design since it can bring an unusual look. Still, we would not recommend it on big open driveways.
Stretcher Bond Paving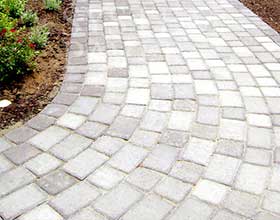 Stretcher is a simple, visually effective and easy method to install; the paving is laid side by side in a linear pattern that makes smaller areas appear larger. This style of paving looks beautiful on curved areas or a pathway. However, we don't recommend it in a high-traffic area like a driveway because it is not interlocking and can be prone to movement, especially on the edges. If heavy vehicle pressure is constantly applied.
Staggered Pattern Paving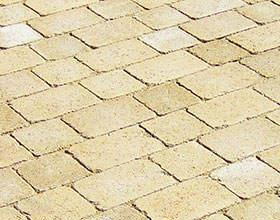 This beautiful design is characterized by using cobblestones or paving blocks cut to different specifications. The resulting random series of different lengths fit together in an eye-catching way which is perfect for driveway paving, patio paving and other areas where you want to combine the beauty and durability of your paving stones with an old traditional style and feel.
To learn more about our paving services, make sure to visit our block paving services in Warwickshire, or you can call us on 01926 945017 to talk directly with one of our team.